Roman Gottfried's Holistic Dog Training and Behavior Healing Mentoring and Certification Program
Online Holistic dog Behavior Healing Program
➡️ Program 2019/20 starting Sunday August 18 sign up now!!!
Online mentoring program to become a certified holistic dog behavior healer
Requirements
Private individuals: 3-5 years dog handling experience required, as a shelter volunteer or Foster ( proof from involved shelter or rescue)

Dog trainers: Pet Trainer Certification

Veterinary Technician: Certification

Breeders registered ( AKC, UKC or ADF) or Puppy Culture breeders
Equipment
Access to high speed internet or 4G cellphone coverage.

A computer and basic computer skills.
What You will Learn
Final evaluation of skills
How to build strong bonds, using Force Free and Emotionally Positive techniques

You'll get a deeper understanding of dog's social relationships and behaviors.

Why dogs become reactive and how to help them navigate through their relationships with dogs, and humans In modern societies.

The Spiritual Aspect Of Dogs and How To Help Them Help Their Human Partners

How Dogs Get Traumatized and How To Heal Their Trauma

Learn how to use intuitive skills to find and heal emotional trauma
Your program Includes
Dog Behavior Healing Certificate

Online Training classes (40 hours) with tests on different class components

5-hour personal mentoring online training sessions with Roman Gottfried

Basic dog nutrition

Golden Frequency Healing certificate
Duration
Six months to one year
Tuition
For the entire program includes
certification of attendance

golden frequency animal healing certification and

Inline consultations
Price: $1600 USD

To receive your certification as Holistic Behavior consultant you need to attend a one week in person program already included in the price ( travel experiences not included)

200 units of continuous education needed for yearly renewal of your certification


Payment plan available through Paypal Credit
Certification Criteria
Understanding dog's basic needs

Basic training skills includes obedience commands

Assess behavior issues

Locate and assess triggers to behavior, including reactivity and aggression

Understand dog/human connections and how they contribute to behavior

Assess the emotional needs of the dog

Identifying systemic patterns between dogs and their human parents

Ability to do trauma assessment

Ability to build trust and confidence in a dog

Familiarity with breed specifics

Being able to do remote energy healing on animals

Recognizing dog parenting styles

implement alternative healing modalities into behavior modification.
Recommend bY National Rescues and Shelters
Testing and Certification Process
Proof of previous dog training or handling skills required

Scenario test with written training plan and course of action

Being observed in a training session with an unfamiliar dog by a certified trainer or live stream with Roman

(8 hours) hands on assessment in two cases with real clients and dogs provided by Roman Gottfried. (At Location to be determined)
What Is Covered in RHDT Holistic Dog Trainer and Behavior Healing Course
There are two major sections
About Canines
Canine ethics and morals
Canine behavior
Canine body language and communication
Misconceptions and myths about training & canine behavior
The history of dog training

Canine behavior in the wild
Canine cognition
Socialization and fear periods
Learning theory
Human Canine relationships
Parental Influence on the Emotional Development of Dogs (SAMPLE)
Attachment styles and development
Parenting styles
Parents-children-canines
Relationship traumas
Family dynamics and Synergistic relationships
In Home and Online consultations

Dog proofing and safety
Training equipment
Trainer - client relationships In-home training
Training In group settings
Online consultations
Other pet services
Proactive planning and preparation.
Dealing with stressed and/or distracted dogs to handling a dog bite in class.
Your support team: Holistic veterinarians, and nutritionist, groomers Rescues and shelters
Hands-on training in a shelter and at fosterhomes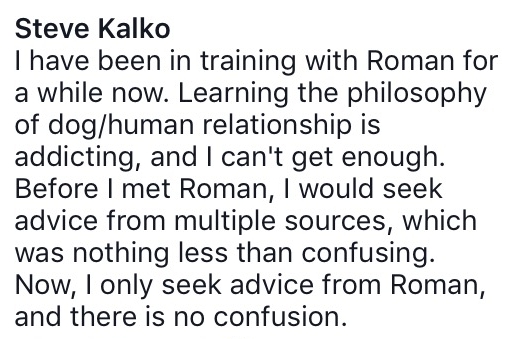 Steve Kalko - New Beginnings Kennels Ohio.
Become Successful Educator
Trainer's role in building relationships, preventing and addressing fear and stress in dogs
Education and proactive parenting
Emotions, treats, and markers in HDT
Triggering behaviors and identifying stressors , free will experience
capturing/shaping/targeting
Common behavior problems (management and training)
Basic manners and life skills
Reinforcement and reinforcersTypes of communication
Teaching tasks, jobs and projects
Teaching Shelters, Volutreers, Parents and Kids
Human communication and learning – keeping clients engaged and learning
Identifying client's goals and their capabilities
Dealing with emotional and combative clients
Balanced Training, Positive training VS Holistic Training – what it is and what it isn't
Promoting and defending positive training
Energies and Healing
Understanding the canine energetic synthesis
How trauma, blockage and energies affect behavior
Purpose of human/dog relationships
Healing trauma and releasing energetic blocks
Alternative healing modalities that can help with behavior issues
Intuitive tools and development
and many more Have a look at the CURRICULUM
Schedule a mentoring interview with Roman and get the that answers to your questions.
What Have People To Say Of The Effectiveness Of online Holistic Approach?